Home
>
Outdoor GIENTAI mobilizes in response to Kumamoto Earthquake
Outdoor GIENTAI mobilizes in response to Kumamoto Earthquake
2016/4/16
Kumamoto Earthquake: Find out how you can contribute to the "Outdoor GIENTAI"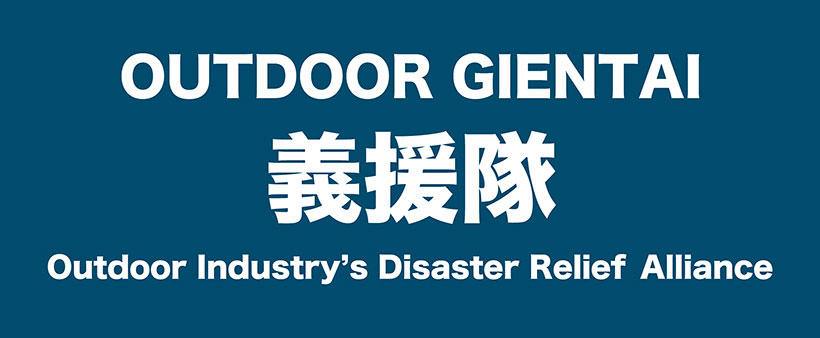 Kumamoto Earthquake (April 2016)
Our thoughts are with the people who have been affected by the earthquake and aftershocks that occurred in Kumamoto Prefecture since April 14th, 2016.
We are currently mobilizing the "Outdoor GIENTAI", a relief effort supported by the outdoor industry, to help the affected people in Kumamoto. For those who are involved in the outdoor industry, we ask that you join us and provide support any way we can. Below is a brief description of how you can contribute;
Donations:
Bank Name:
The Bank of Tokyo-Mitsubishi UFJ Limited
Branch Name:
Shinanobashi
Account Number:
3963129 (ordinary deposit)
Account Holder:
Outdoor GIENTAI
SWIFT:
BOTKJPJT
Account Holder's Address:
2-2-2 Shinmachi Nishi-Ku Osaka 550-0013 Japan
Donations are acceptable both domestically and internationally by bank transfer.
Donations are also being accepted at our retail locations throughout Japan.
For store infromation >>>

Daily Report of Outdoor GIENTAI Activities in Kumamoto (updated 2016/5/9)
2016/4/30~5/7
- Helped with cleaning up residential areas and removing debris in Nishihara village in Aso.
- Delivered necessary aid, such as water, to areas where aid has yet to be delivered.

2016/4/25
- Received a donation of instant rice from
Eco Rice Niigata
, Ltd based in Niigata. This type of rice is easily digested by individuals with medical conditions and the donation was passed on to the Medecins Sans Frontiers for distribution at their medical tent.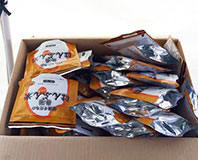 2016/4/24
- In cooperation with Medecins Sans Frontiers, set up tents in the gymnasium and schools grounds of an elementary school in Hakusui village.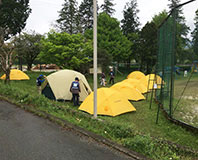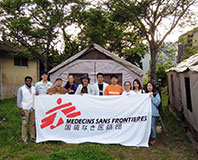 2016/4/18
- Set up an additional 23 tents in front of the Montbell Minamiaso Store.
- Electricity and water are still out; however electricity has started returning to some areas. The Japan Self-Defense Force has started providing warm meals in front of Montbell Minamiaso Store.

2016/4/17
- Outdoor GIENTAI mobilizes and establishes a base at the Montbell Minamiaso Store, offering support to those who suffered in the earthquake.
- Set up an area for 20 tents in front of the Minamiaso Store and providing sleeping bags and sleeping pads. Close to 100 people are currently using the area.
Past Activities of Outdoor GIENTAI, for Tohoku Region Pacific Coast Earthquake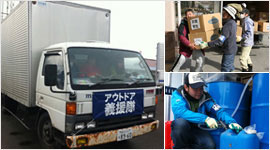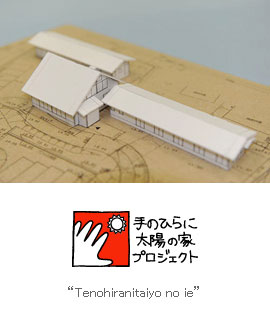 Project of "Tenohiranitaiyo no ie"
We have been supporting the construction project of Tenohiranitaiyo no ie, which is the recovery assistance house for the victims of the Great East Japan Earthquake. "Tenohiranitaiyo no ie" adopts the renewable energy system, and local materials will be used for its construction. We provided financial support as a sponsor for purchasing the land and the construction cost. We decided to utilize some of the donation we had collected for "Outdoor GIENTAI" because we want to deliver the warm and kind feelings we had received from all over the world to encourage the victims to reconstruct their lives.
― "Tenohiranitaiyo no ie" is the community-based recovery assistance house where people live together, which was designed to solve the problems that the conventional temporary houses have and allow the victims to live safely and feel comfortable. The project was designed and is proceeded by Japan Forest Biomass Network and Nonprofit Organization Kurikoma-kogen Natural Education Institute.
For more information >>>
About "Outdoor GIENTAI"
"Outdoor GIENTAI"
was formed at the time of the Great Hanshin-Awaji Earthquake, occurred in the southern part of Hyogo Prefecture on January 17, 1995, and provided humble contributions that we could make at that time. This time, the damage is more widespread and will require a long-term support, but we believe it's important to start with what we can do now. We appreciate all your assistance and contribution.
Isamu Tatsuno
Outdoor Support Team
c/o Montbell Headquarters office
2-2-2 Shinmachi Nishi-Ku, Osaka 550-0013 Japan
Contact Information
Outdoor GIENTAI
c/o Montbell Co., Ltd.
Email: int@montbell.com